RS a History/RS News/RS Future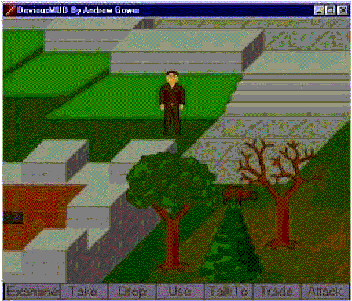 February 6 2000-Blue Strength Potion 500gp
February 7 2000-Item Names in trade, RS supports and helps clans start, duels, fishing, Friend List
February 12 2000-Fires can trap people
February 16 2000- Imps
February 17 2000-Scimitars look different in your inventory, Monks, Ghost town becomes Edgeville, Monestery, Asgarnia Coming soon.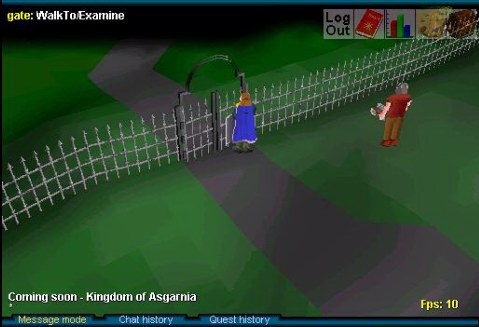 February 27 2000- * @ran@ Flashing Rainbow colors. Hard to read but flashy.
* @red@ Red
* @dre@ Dark Red (Thanks, djk!)
* @lre@ Light Red
* @cya@ Cyan
* @yel@ Yellow (normal default color)
* @bla@ Black
* @blu@ Blue
* @whi@ White
* @mag@ Magenta
* @gre@ Green
* @gr1@ Yellow Green (That's Yellow Green if you can't read it)
* @gr2@ Yellow Green
* @gr3@ Yellow Green (These two really are different!)
* @ora@ Orange
* @or1@ Yellow Orange (That's Yellow Orange if you can't read it)
* @or2@ Pumpkin Orange
* @or3@ Dark Orange
March 10- Server 2, Monestery, Port Sarim, Empty Falador Castle.
August 18 2001- Cook fish on range
March 17- Cook's Guild
October 31 2001-Pumpkin
November 20 2001-No longer turns words to cabbage
November 24 2001-Hi-score list
November 26 2001- No more 65535 stackable object limit
November 28 2001-Trade confirm screen
December 12 2001-Draynor Market, Black Weapons, Armor level requirments, Dyeable Capes, 2nd Falador Bank
December 25 2001-Christmas Crackers, Party Hat
February 27 2002-RS member world.
March 20 2002-World 7 & 8
April 20 2002-Easter Eggs
April 30 2002-Theiving, Tribal Totem Quest, Ardougne
May 10 2002- Members wilds, Log certs, Curry, Buildings in wilderness, Crafting guild, Make over mage
May 28 2002-Monk's Quest, FIshing Competition Quest, Dwarf Mountain Pass, Hemenster
June 17 2002-Fishing Guild
July 23 2002-Holy Grail Quest, Gnome Stronghold, Fight Arena Quests. Port Khazard, Coal Mines
August 15 2002-Hazel Cult Quest, Sheep Herder Quest.
August 27 2002-Plague City Quest
September 9 2002-Sea Slug Quest, Pearl Bolts, Oysters
September 11 2002-Abuse Report Button
September 24 2002-Tutorial Island, Water Fall Quest, King Black Dragon
October 23 2002-Biohazard, Jungle Potion, Yanille, Dragon Bones, Enfeeble, stun, vunerability, soul runes
November 14 2002-Rock Becomes colored when ore spawns in it, Faster Ore Spawns, Fatigue!
November 15 2002-SIlver is less fatiguing, 2.5x easier to get gems, Food recovers fatigue
November 16 2002-Soft Rocks (No Fatigue but slow respawn), Hard Rocks (Fatigue but fast respawn) Same with fish
December 8 2002- Beds Appear
December 13 2002-Agility, Gnomes, Grand Tree, Liquor
December 14 2002-Gnome Gliders and Grand Tree Quest
December 25 2002-Santa Hats
January 2 2003-Earth Warriors
January 17 2003-Fletching
January 27 2003-South Brimhaven Jungle, Jungle Potion Quest, and Shilo Village.
January 28 2003-Gnomeball.
February 13 2003-work on RS2 starts.
February 21 2003-Library of Varrok.
March 3 2003-Underground Pass Quest
April 14 2003-Tourist Trap, Throwing knives, spears, and darts.
April 20 2003-Bunny Ears.
May 7 2003-Quadruple size member banks, Watchtower Quest
May 27 2003-Dwarf Cannon Quest
June 9 2003-Murder Mystery Quest
June 11 2003-Aragornclone joins runescape!
June 28 2003-VKOZ Formed
July 9 2003-Digsite Quest
July 28 2003-Gertrude's Cat Quest
August 20 2003-Legend's Guild
October 31-November 2 2003-Scythes Drop
November 11 2003-Forum Beta
December 1 2003-RS2 Beta: Rune Crafting, Range Armor, Warhammers, Seperate Defence Prayers, Binding Spells, All non-member quests and lands, Lost City
December 15 2003-RS2 Update: Camelot, Catherby, Brimhaven. Quest: Merlin's Crystal, Murder Mystery, Sea Slug.
December 18 2003-RS2 update: Family Crest, Wilderness Dungeon, Drag&Drop Bank/Inventory.
January 7 2004-Haircuts and clothing changes, Running, Character Emotions,
January 21 2004-RS2 added: Re added Makeover Mage, Range Guild, Heros Guild, Tribal Totem, Sound FX, Ardonogue
January 29 2004-Password change by e-mail making permenant character stealing near impossible!
February 2 2004 - Huge Runescape 2 update Ardougne, Yanille, Tree gnome stronghold, Ogre country, The Khazard Battlefield, More jungle areas, The rest of the desert, The barbarian outpost (now moved to north of the waterfall), The northeast of the wilderness, The Fishing guild, Yanille Dungeon, Gnome Ball
February 10 2004-RS2 update:Treevillage, Scorpion Catcher, Digsite, Sheep Herder
February 16 2004-RS Forums
February 17 2004-Shilo Village, Weildable Picks, Spears are Melee, Javelin, Mace affects Prayer
February 25 2004-Dragon Mace and Dragon Dagger.
Quests
Biohazard
Clock tower
Dwarf cannon
Fight arena
Grand Tree
Hazeel Cult
Holy Grail
Jungle potion
Legend's Quest
Monks friend
Observatory
Plague city
Temple of Ikov
Tourist trap
Watchtower
Waterfall quest
Many animations
Picking objects up
Dropping object
Using spinning wheels
Cooking on fires and ranges
Grain picking
Potato Picking
Glass making
Pottery
Smelting
Bone Burying
Opening cupboards and chests
Chest thieving
Ladder and stairs climbing
February 25 2004-Dragon mace and dagger
March 3 2004-Barb and pearl bolts
March 9 2004-Light different kinds of logs, Combine Potion into one vial
March 15 2004-Music player, FireBreath Potion, animation when you gain a lvl, You can now plant mith seeds to grow flowers which you pick
March 17 2004-RS2 Beta open to Free players
March 18 2004-RS Forums get there 1,000,000th post!
March 22 2004-Lantadyme Herb, some member range items become non-member ex:Oak Long, Steel Arrows, Green Dragonhide. Blue, Red, and Black Dragonhide armor for members, and Green Dragons,
March 25 2004-Duel Arenas
March 29 2004-RS2 becomes RS
April 1 2004-Draynor Horse Seller
April 3 2004-World War IV
April 5 2004-Orc
April 6 2004-Tangle Vine, Drunken Dwarf
April 20 2004-Enchantable Rings
May 5 2004-Treasure Trails, 48-60 slot non-member bank, 192-240 slot member bank, Black tinted armor, black gold armor, adamnite tinted armor, adamnite gold armor, rune tinted armor, rune gold armor, Zamorak armor, Saradomin armor, Guthix armor. Black, Blue, and White Berrets, Black and Red Head bands, Green Ranger Boots, Blue Ranger Boots, Highway Mask, Robin Hood Hat, Cavalier Hat and Pirate Hat.
May 10 2004-No Jewlery Duels, Flower Duels
May 18 2004-Bird Watcher Quest, Ogre Bow, Ogre arrow
Future-New areas:
# A viking style area, including a new quest and town.
# A large 'frozen lands' area including penguins, mammoths, polar bears and more.
# A pyramid quest in the desert full of traps, treasure and mummys .
# A barrows of the undead area to explore and find new equipment.
# Some good training areas designed for rangers.
New quests:
# There will of course be lots of new quests. We will be adding these on a regular basis again, including Part 4 of the ongoing plague city storyline.
New items:
# More rare weapons and armour - including weapons with impressive special moves.
# Armoured boots.
# More clothing to help give your characters a unique look.
# Special prayer book items which can be wielded in the shield spot for prayer bonuses.
New features & skills
# Summoning spells - summon skeletons, demons, etc...!
# A quest journal for you to read and recap what point you are up to in each quest. No more coming back to a quest after a break, and wondering what you are supposed to do next.
# More random events, to give more variety, and lots of chances to win unexpected rewards.
# More pets and followers with different properties and abilities.
# Special organised game events on holidays.
# Many new monsters such as Lizardmen and more.
# In game versions of our boardgames such as chess and draughts.
And we will be adding even bigger features later in the year, that really take advantage of our new engines abilities, such as:
Player owned houses - Each player will be able to have their own unique house. Use the new carpentry skill to make new/rare things for your house. Using the farming skill to grow herbs and plants in the grounds of your house. Build your own private party areas and shop areas, and more!
A multiplayer duelling arena - possibly integrating with clan support, so players can form teams, and then have massive multiway wars!
Wilderness castle areas for special team playing killing wars.
Randomly generated scenarios, where a new adventure is generated for you and your friends each time you go on it. Form an adventuring party and go on your own personal quest.